Are You a Loan Holder of the Canada Emergency Business Account?
If you are a holder of the Canada Emergency Business Account, make sure that the outstanding balance excluding the amount available for forgiveness is repaid by these dates.
For loan holders in good standing, the forgiveness repayment date is extended to December 31, 2023.
If not in good standing, your forgiveness repayment date is December 31, 2022.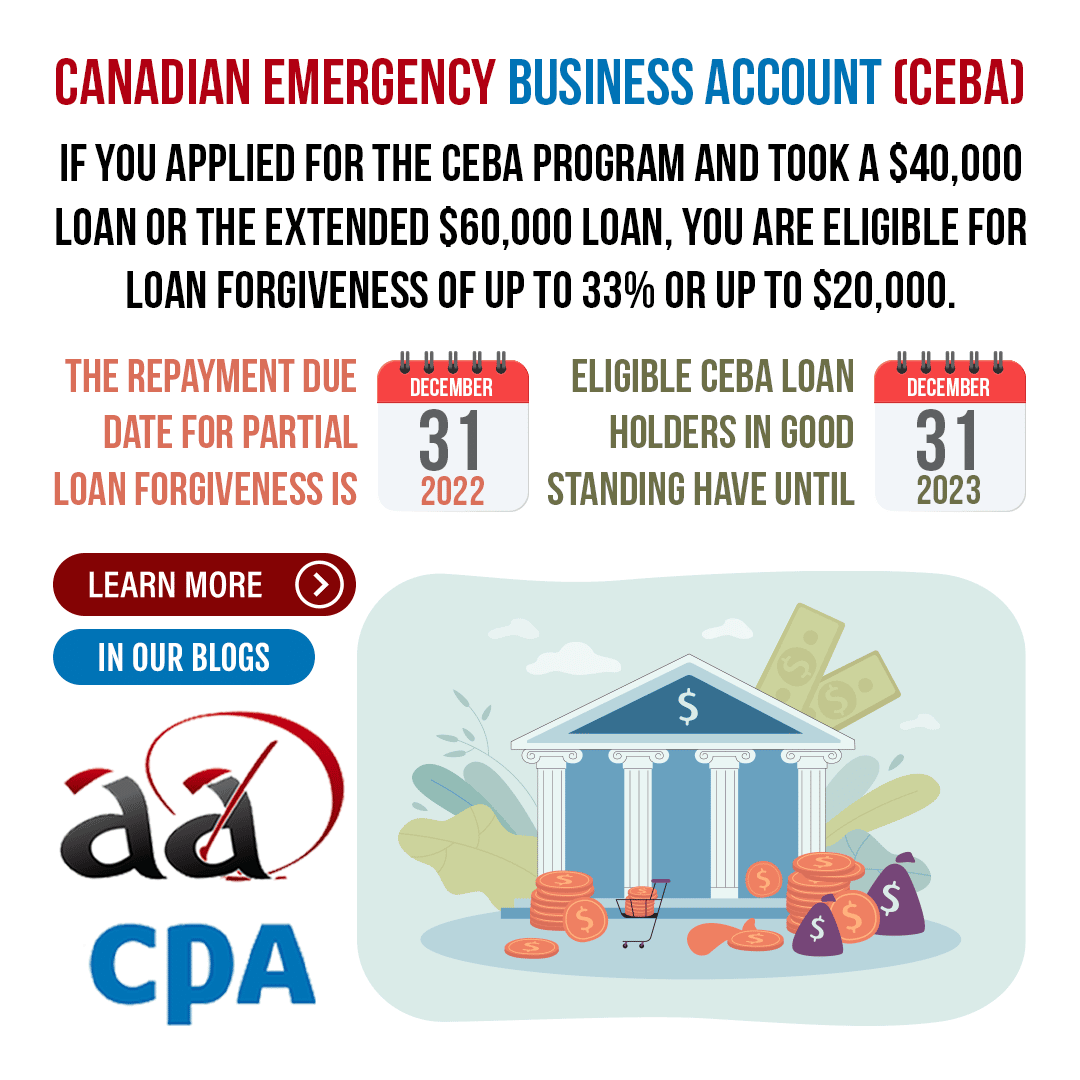 To check the status of your CEBA loan and to see your standing, check out the following link: https://status-statut.ceba-cuec.ca/
Throughout the COVID-19 pandemic, the Canadian government approved a total of $49.2 billion in CEBA loans and expansions. This meant that there were 898,271 business approved and 571,851 of them were approved for the expansions as well. This included Not-For-Profit organizations and account holders did not have to have an active business chequing or operating account.
Eligibility for the CEBA
Payroll Stream (Applicants with Employment Income of $20,000 to $1,500,000 Paid in 2019)
Have an active CRA Business Number with an effective date of registration on or before March 1, 2020.
Have an active business chequeing or operating account with the Lender at the time of your application.
Cannot be a re-applicant to the Canada Emergency Business Account Program and are not applying for support under the program at any other financial institution.
There must be an intent to continue to operate it's business or to resume operations.
Non-Deferrable Expense Stream (Applicants with $20,000 or Less in Employment Income)
In addition to meeting the criteria for the Payroll Stream, you must meet the following:
Have eligible non-deferrable expenses between $40,000 and $1,500,000. This could include rent, property taxes, utilities and insurance.
Filed an income tax return with the CRA in the tax year ending in 2019 or if not submitted yet, 2018.
Canada Emergency Business Account Expansion
On December 4, 2020, if you were already approved for the initial CEBA, you were eligible to apply for an extension of $20,000 on top of the initial $40,000. If you hadn't applied at all, then you were able to take the full loan of $60,000 once approved.
The loan forgiveness on the first $40,000 is up to 25% provided that the deadline is met and that means that the initial 75% of the loan is paid off. If you borrowed more than the $40,000, there is an eligibility of up to 50% on all amounts after the initial $40,000.
For more information, check out the page on the Government of Canada's website describing the Canada Emergency Business Account or click here.