What is Virtual Bookkeeping?
Cloud, remote, or virtual bookkeeping is when an accountant or bookkeeper provides services remotely. Cloud-based softwares make this all possible and is much more flexible for the business. Technically, there aren't significant differences between virtual and regular bookkeeping except that the client doesn't ever need to see the accountant and bookkeepers in-person.
Additionally, virtual bookkeepers usually make more effective use of cloud-based accounting softwares to keep track of financial documents and organize them. In addition, using softwares to match receipts through simple photos and scanned documents ensure the records kept are accurate.
Where Can You Find Virtual Bookkeeping Services?
You can hire a virtual bookkeeper and manage them as a remote employee or work with a bookkeeping and/or accounting firm to outsource it. Outsourcing your accounting to a firm saves you the work of managing payroll for another employee or even a team. On top of that, it means you don't need to manage another person which gives you more time to focus on your business.
A bookkeeping firm may not be able to file your taxes but an accounting firm will be able to do your bookkeeping and file your taxes. Working with a CPA accounting firm is the next step up, they are experts in the fields of finance and can take you books further than just balance sheets, cash flow statements, and profit & loss statements. They can perform financial analysis, file business tax returns, and work on your tax planning.
Not every accounting firm offers virtual, cloud or online bookkeeping services. Some may need to see you in-person to begin an engagement. Regardless, Advanced Tax offers bookkeeping services nation-wide. No matter where you are in Canada, we can help you get the services you need through cutting-edge cloud-based, accounting softwares.
How Does Virtual Bookkeeping Work?
Virtual bookkeeping tools streamline the bookkeeping process, without the need to be in any specific place. Using the right software tools for cloud bookkeeping ensures the process is efficient and accurate. These tools may have monthly fees but are worth every penny for the value they bring.
Bill Pay & AP Software
Virtual bookkeepers can automate the accounts payable process with bill pay softwares. This expedites the way a company receives, approves, and pays invoices. Digital formats allow bookkeepers to get this done anywhere through remotely managing the accounts payable. One example would be Bill, as it is a tool for remote bookkeepers to approve, pay, and sync bill payments.
Document Management
Managing documents, invoices, and receipts related to financial transactions may seem to be a hassle – but really makes a business much more efficient. Once a digitizing process is set up, forget about file folders and big banker's boxes. Just get your business a specialized scanner like the one's sold at Fujitsu, and you won't look back.
Invoice & AR Automation
Remote bookkeepers can also systemize the accounts receivable process. This can be done through cloud-based invoice automation tools to quickly create and send invoices. Additionally, they can track payment (or the lack of one), and send payment reminders as well as estimates which can be converted into invoices. These softwares will often integrate with other cloud bookkeeping softwares as well.
Credit Card Account Management
Handling expenses, credit cards, and receipts accurately is tough for many businesses. Yet, with a software like SutiExpense, this process can be automated. Employees can create, submit, and manage expense reports while submitting images of receipts through the app. Then, approvals can be done through a workflow and reimbursements can even be made for said employees. All of this integrates with many cloud-accounting softwares to simplify your bookkeeping process as much as possible.
Benefits of Virtual Bookkeeping
Always Updated Books: Cloud accounting software lets your bookkeeper access your bank statements, receipts, and invoices online to update your books as transactions happen.
Accurate Reports: Many softwares and tools used in bookkeeping and accounting nowadays include features that provide reports that are easy to read.
Flexibility and Cost Savings: Hire the best accountants and bookkeeping experts, no matter where they are. Get the most value out of them because you won't be geographically restricted.
More Time for Your Business: Spend your time doing what only you can give your business. Don't worry about your finances as much, while making it easy to jump in and get any information you want, whenever you want.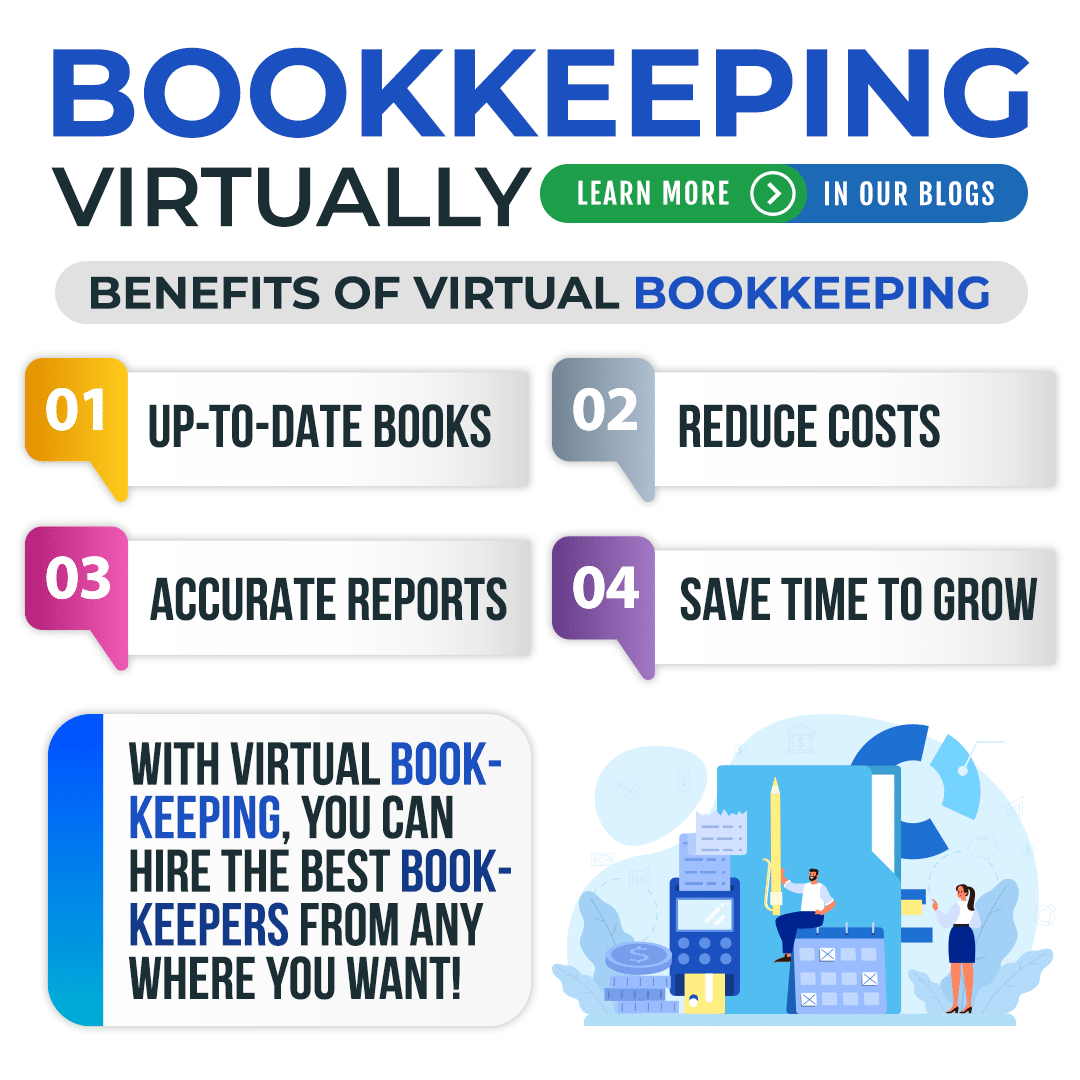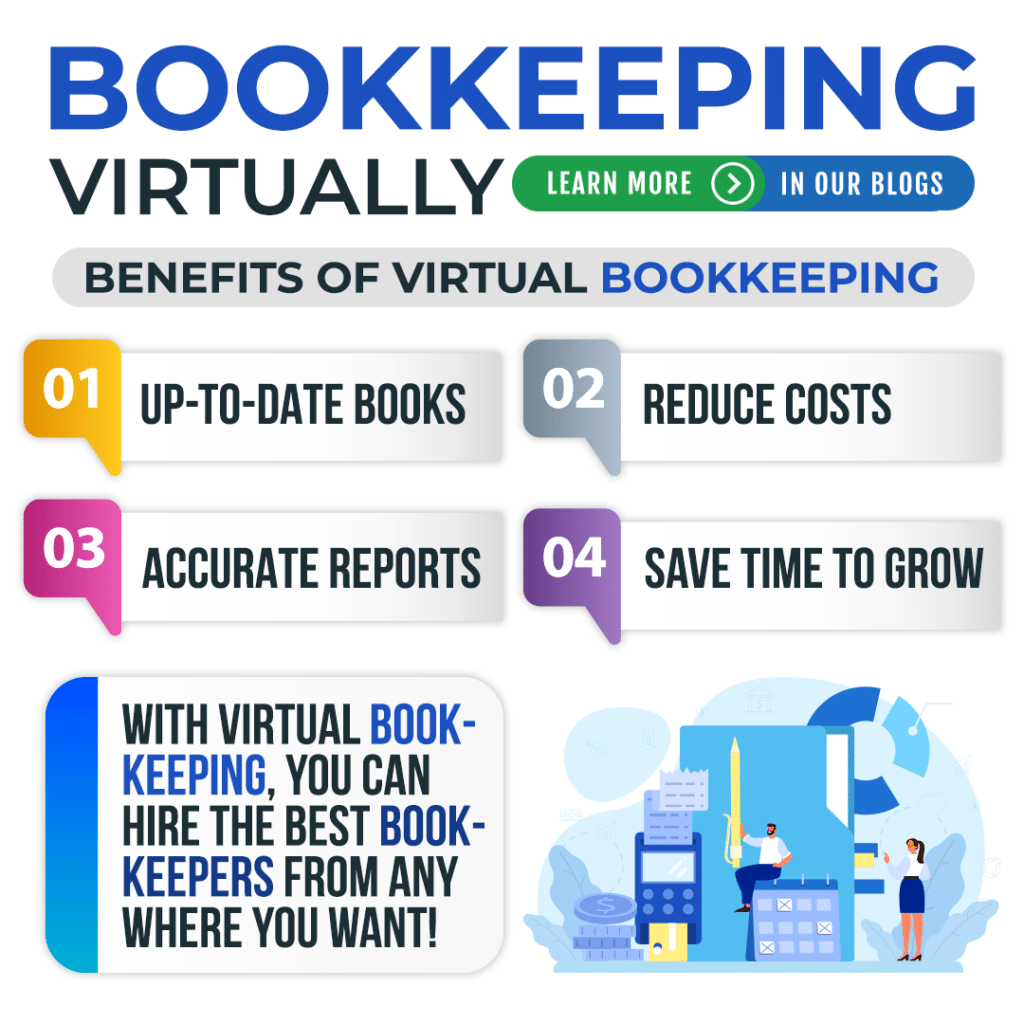 If you are looking into outsourcing your bookkeeping to a virtual, cloud, or remote bookkeeper, look no further. At Advanced Tax, we can service you from anywhere in Canada so just contact us today to set up a meeting and get a quote from our CPA accountant.